Multi-lumen tube
Medical equipment is essential for supporting our health through its use in diagnosis or treatment of diseases. Our fluoropolymer tubes are used in medical equipment.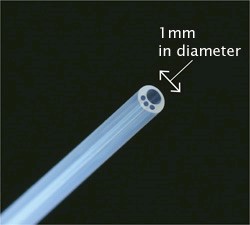 This photograph shows our "multi-lumen tube," which is utilized as a component in medical equipment devices to examine internal organs and provide treatment without surgical procedure.
To reduce the burden on patients, medical equipment that enters the body is required to be as small and narrow as possible. This is also true for equipment parts. "Multi-lumen tubes" are fluoropolymer tubes with an external diameter of 1 mm and with multiple extremely minute holes internally. These multiple holes enable the equipment to have various functions within a limited space (diameter), such as the insertion of a wire or forceps and delivery of various types of liquid.
Approximately 60 years has passed since NICHIAS began manufacturing fluoropolymer tubes. Among all tubes, manufacture of the "multi-lumen tube" introduced here requires not only cleanliness, but also extremely high quality control and management, since it is used in medical equipment. We have developed technical innovations allowing the manufacture of products that are narrower, thinner, and of extremely complicated shapes. We intend to continue making technical innovations, to enable us to continue helping medical equipment manufacturers, physicians, and patients by supporting the continuing advancement of medical equipment.
---
Document Downloads
Click on the document image below to open/download the PDF
Other things you may not know?