Saniclean™ Gasket introduced to European market
NICHIAS Europe introduce Saniclean™ to European Food & Beverage market
Saniclean™ is a sanitary tri-clamp gasket made from EPDM rubber with the added protection of a PTFE outer coating. These two are bonded to form one unitized product. As such Saniclean™ behaves like an elastomer but maintains chemically inert characteristics of a PTFE.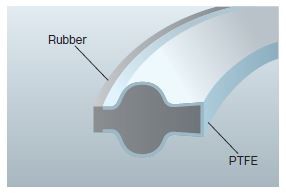 Due to the PTFE outer cover, Saniclean™ offers high chemical and contaminant resistance present in many food and beverage processes. After all, PTFE remains stronger than standard rubber with its anti-flavouring properties significantly reducing washing time when changing flavours. Whatever the cleaning process, confidence can be placed in this sanitary gasket for not suffering any damage.
Thanks to these capabilities, Saniclean™ is gaining popularity in the pharmaceutical market as well.
If you'd like to know more, feel free to fill in the form below or give us a call.
Other things you may not know?