VORTEX™ GASKET-NM
 Resists High Temperature up to 1000˚ C and Pressure up to 43 MPa
 
VORTEX ™ Gasket-NM is a spiral wound gasket using NM material. NM material is developed by NICHIAS to overcome the chronical problem of vermiculite and graphite.
Vermiculite and graphite are known to have a problem in sealability and weakness in oxidant resistance, respectively. Dur to its unique structure, NM material solves these issues by extending its sealing lifetime and resisting to oxidization.
Exclusively to NICHIAS, VORTEX ™ Gasket-NM is a sealing solution for critical operation - high temperature and high pressure with flammable or toxic water/oil/gas medium for long useful time.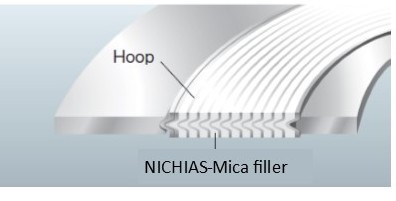 We have supplied VORTEXTM gaskets since 1952, which have been used in various industries such as petroleum refinery, petrochemical, power plant, gas and automobile industries. Although VORTEXTM is the name of our product, it is the generic term in these industries in Japan for spiral shaped gaskets, showing the high level of recognition and trust of the NICHIAS brand.
We supply not only VORTEXTM gaskets but also many different types of gaskets. Harnessing our technology to block liquid and gas leaks, we continue to seek out new opportunities to help customers globally.
Terminology

Gasket: A material that stops leaks of movable parts such as faucets is called "packing," whereas a leak stopping material used for stationary parts such as pipe joints is called a "gasket." A "seal" is a general term that refers to parts that stop leaks including gaskets and packing.  
---
Document Downloads
Click on the document image below to open/download the PDF
Other things you may not know?